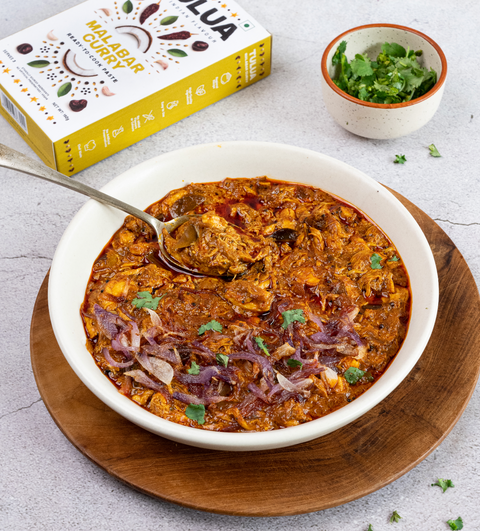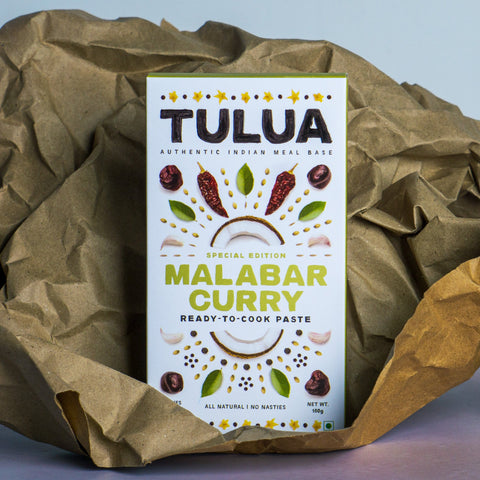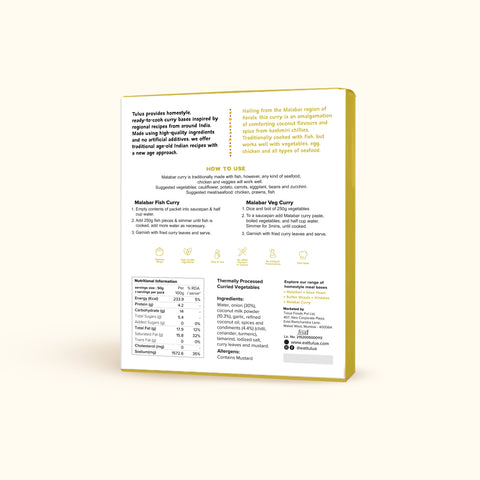 Ready to Cook Paste · 100% Vegetarian
Malabar Curry · Vegan · 80g
- Save 5% on Pack Of 2
- Save 10% on Pack Of 3
- Free Shipping on prepaid orders
- 10% OFF on orders over Rs 600/-
PLANT-BASED // DAIRY FREE
Hailing from the Malabar region of Kerala, this curry is an amalgamation of comforting coconut flavours and spice from Kashmiri chillies.
Traditionally cooked with fish, our Malabar curry works well with vegetables, egg, chicken and all types of seafood.
Free Delivery on orders over ₹500/-
How to use

Each recipe has been created to be versatile, with numerous applications.
Use our easy homestyle recipes or visit our Instagram page for cooking videos.
Malabar Fish Curry
Empty contents of packet into saucepan.

Add 450g fish pieces & ¾ cup water.

Simmer until fish is cooked, add more water as necessary.

Season and serve
Malabar Veg Curry
Dice mix of vegetables (cauliflower, eggplant, beans, potatoes)

Pan fry vegetables individually, until lightly coloured.

To a saucepan add vegetables + contents of packets + 3/ 4 cup water and simmer until cooked.

Season and serve
You can also make:
Spinach and Chickpeas yogi bowl
Eggplant Noodle soup
Chicken Curry
Ethically Sourced Ingredients.
No artificial preservatives | No artificial flavours or colours
Ingredients
Onions, Water, Coconut Milk Powder (15.6%), Coriander Seeds, Turmeric Powder, Mustard Seeds, Tamarind, Salt, Curry Leaves, Fenugreek Seeds
Nutritional information