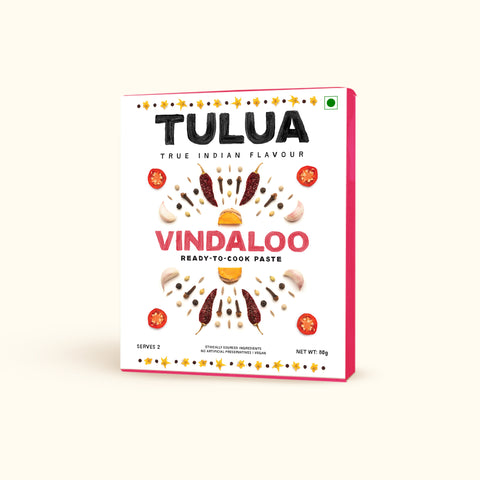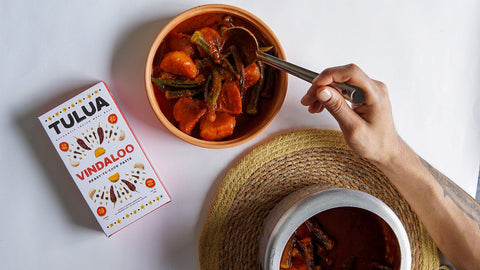 Ready to Cook Paste · 100% Vegetarian
Vindaloo · Vegan · 80g
- Save 5% on Pack Of 2
- Save 10% on Pack Of 3
- Free Shipping on prepaid orders
- 10% OFF on orders over Rs 600/-
One of the most iconic Indian dishes, the Vindaloo is a marriage of delicious Indian & Portuguese flavours!
Made using locally sourced ingredients, this dish takes you straight back to the carefree lanes of Goa!
Free Delivery on orders over ₹500/-
Each recipe has been created to be extremely versatile, with numerous applications. Use our classic homestyle recipe and

 

hone your inner chef skills.
Our Vindaloo is Vegan.
You can make-
- Chicken Vindaloo Curry
- Pork Vindaloo
- Alu Bhindi Vindaloo
- Alu Baingan Vindaloo
- Eggs Shakshuka Vindaloo
- Prawn Reachado
- Stuffed Okra
- Baingan Bhajja
- Rawa Fried Fish
- Pork Tacos
- Eggplant Taco

Ethically Sourced Ingredients.
No Preservatives | No artificial flavours or colours.
Ingredients
Onions, Toddy Vinegar, Kashmiri Chilli, Sunflower Oil, Jaggery, Ginger, Garlic, Salt, Turmeric, Cumin Seeds, Black Pepper, Cloves, Rosemary extract
Nutritional information